Complete Story

10/31/2017
AZSA Founding Member Bob Schoff of National Self Storage Inducted into Self Storage Hall of Fame
The Arizona self-storage community celebrated with the whole industry in September 2017 when Bob Schoff, founding AZSA member and owner/operator of National Self Storage, was inducted into the Self Storage Association's Hall of Fame. Little did he know, when he attended the association's first meeting in 1975 that he would one day receive its highest honor.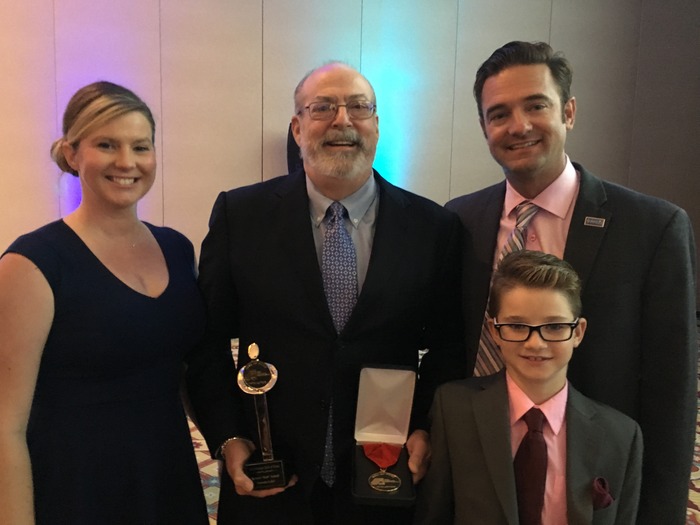 Bob Schoff with Heather, Travis & Ty Morrow at his induction into the SSA's Hall of Fame
Our industry and association owes a debt of gratitude to this veteran of self-storage. As one who knows him well, business partner, son-in-law, and AZSA President Travis Morrow says, "Bob's example should be considered by all members of the self-storage industry as the path to emulate."
Always ready with a smile and encouragement, Bob began his self-storage career in 1974 as the manager of Tucson Self-Storage, a three-property development in his home town. The following year he attended the first meeting of what we know today as the Self Storage Association (then called the American Mini Warehouse Association).
Joining the Arizona Self-Storage Association as a founding member over 20 years ago, Bob helped AZSA become a premier state association. He helped run and/or attended most if not all of our 19 annual conferences and countless other association events. Over the years, Bob helped develop structure, provide context, and create content for many of AZSA's resources and benefits of membership.
He was integral to this association's efforts to modernize Arizona's lien laws, leading the nation in the effort to streamline antiquated statutes and provide a more efficient business environment for us all. This literally puts money the pocket of every self-storage business every month all around the state.
For many years, Bob was on AZSA's Board of Directors, including service as President. In fact, he introduced current President Travis Morrow to the association by bringing him to monthly board meetings. Reflecting back on those early morning treks from Tucson to Phoenix, Travis finds himself wondering, "I might have been brought along just to use the HOV lane." Of course, Bob would probably say that was just an added benefit! What he was really doing is modeling how "to give back to the business that has given many of us so much," as Travis says.
Thank you, Bob, for your dedication to our industry and our state and national associations. For more information, see Bob's bio on the National Self Storage website or in the September issue of the SSA's Globe Magazine.
---