Complete Story

07/27/2020
Eliminating Delinquent Payments with Account Updater
By Robert Blume
Preferred Payments
As a storage facility owner or manager, you've probably had your fair share of customers not paying their bills on time. A proven solution for eliminating late payments is recurring billing and storage facilities across the U.S are now requiring renters to enroll in auto-pay.
However, recurring billing can bring up new challenges.
Managing expired, lost or stolen credit cards on file can be an expensive headache. It takes days, weeks or even months to gather new credit card details and past-due fees. If new payment details cannot be obtained in time, the collections and lien process is inconvenient for both parties - eventually costing your storage facility even more money and time.
What would it look like if your renters' credit card information were updated automatically?
Account Updater renews credit card details directly in your storage management software and does not require customers to take any action. This keeps rentals current without interruptions and can boost your retention rate by 15% or more.
Key Features and Benefits:
Automatically updates expiration dates, account closures, and new card numbers between Visa and MasterCard
Keeps rentals current and reduces cancellations.
Minimizes costs and time wasted requesting new payment details.
Improves customer satisfaction and loyalty.
Minimizes employees' interaction with sensitive cardholder data.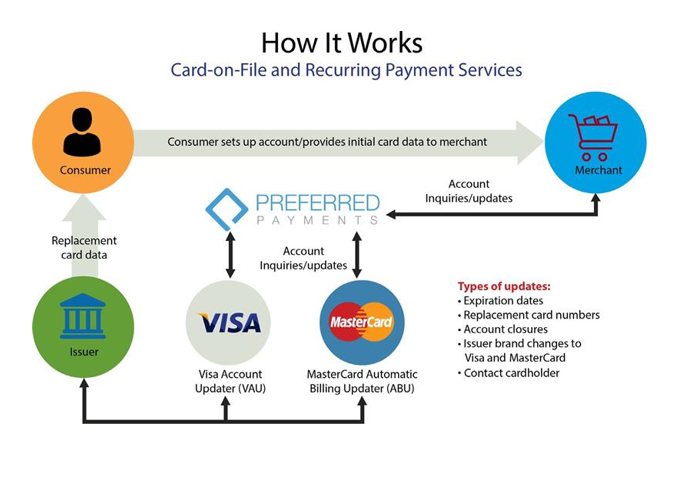 Because of your membership with AZSA, Preferred Payments is offering you a corporate discount program that will streamline and lower your costs for payment processing. While Preferred Payments can help you setup Account Updater to rid late payments, there are even more benefits to take advantage of including:
Up to 40% rate reductions
Dedicated account manager
Terminal swaps
Chargeback protection
Next day funding
PCI compliance assistance
And more…
To learn more about your new benefits and corporate discount program, contact Preferred Payments today for a complimentary rate review.
---