Complete Story

01/29/2018
From the NFL to AZSA: Marcus Trufant Champions the Self-Storage Industry at AZSA's 2018 Conference
By Anne Mari DeCoster
AZSA Executive Director
It's easy to get distracted by all that glitters and fall prey to false promises, especially when you are making a lot of money. NFL star turned self-storage owner/operator Marcus Trufant has seen a lot of that among his brothers on the football field.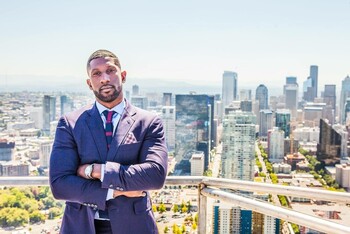 However, he does not see it among his self-storage colleagues. Focus on the bottom line of our delightfully simple business model is what makes self-storage the most profitable real estate sector, in the industry with the highest profits on Wall Street – providing great revenue for owners and investors.
This self-storage owner/operator has both a unique background and uncommon influence, making Marcus Trufant a perfect Special Guest Speaker for the 2018 Owners Summit, September 26, 2018, at the Wild Horse Pass Hotel & Casino. Also on the Owners Summit agenda:
Victor Calanog, Chief Economist at REIS, about the economy and the self-storage market;
Extra Space Storage's Noah Springer, on cutting edge technology and what the REITs are doing to stay ahead;
Ken Nitzberg, President & CEO of Devon Self Storage, as our Lunch with a Legend;
And others – watch the AZSA website for details.
Marcus Trufant, a majority member of Tru-Associates LLC, which owns and operates several self-storage properties, is a champion of both the self-storage industry AND the football field. His message is one for all owners and investors to hear, and he is particularly compelling among investors who are retired football players, current NFL stars, and other professional athletes, encouraging them to consider investing in self-storage while still in their athletic careers.
Quoting dismal statistics, Marcus says, "The failure rate of players coming out of the NFL is over 70%. This, as we all know, continues the myth of the dumb athlete. I know my fellow athletes better than that. They are proven, driven winners. We needed a new play book and I sought to find it. I want to do my part in changing those dismal statistics," by helping them manage their money through investments in solid assets that will be there, earning money for them when they retire – a nice companion for all the aches, pains, and injuries their years of athletic fame earn them.
Operating as a family business among the three Trufant brothers who played in the NFL, "Tru-Associates…was created to educate and help guide our brothers and sisters who have played professional sports, who time and time again have been preyed upon to invest their money and time into places they shouldn't. Far too large a percentage of these athletes go broke or file for bankruptcy after their professional careers. It's time for a change!"
Why self-storage?
You all know what Marcus and his colleagues tell professional athletes, who reside in Arizona in droves, both part-time and year-round. "Self-storage is a particularly attractive investment because it has inflationary protection through rent increases," says Marcus and his team. "Another selling point is the lack of wear and tear on self-storage properties," verses other real estate sectors with high re-tenanting and remodeling costs. Marcus shows people proud chalk lines on the floor – 14 years and running, without expensive refurbishment expenses. Athletes know about chalk lines!
Marcus describes what most AZSA members experience: "Offer a good product and you'll make money. It's not about the sexy part of business, like having your name on the door of a restaurant," an industry with a much higher failure rate than self-storage. In fact, self-storage is the real estate sector with the lowest foreclosure rate.
Join us to hear Marcus Trufant's story at the 20th Annual Arizona Self-Storage Conference, September 26-27, 2018, at the Wild Horse Pass Hotel & Casino. The Owners Summit is September 26, the Operational Symposium is September 27, and the AZSA Golf Tournament is the day before, September 25. For details, click here:
---