19th Annual Arizona Self-Storage Conference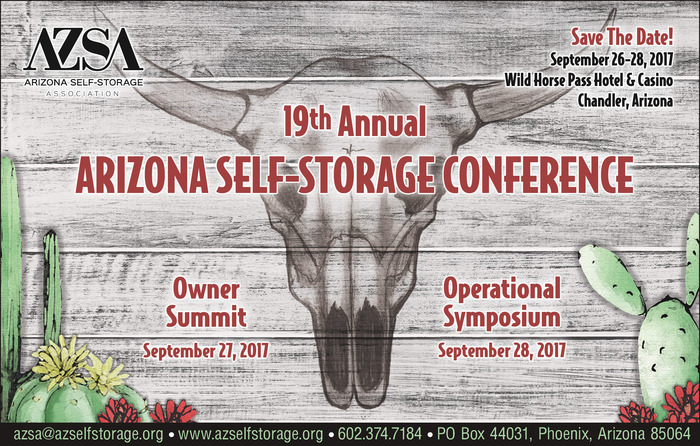 Owners Summit, September 27
AZSA and The BSC Group are proud to present the 2nd Annual Owners Summit on the first day of the Arizona Self-Storage Conference, featuring
Keynote Speaker Steve Cortes
Investment advisor and frequent speaker on investment strategy, global financial trends, and market performance, discussing "The Economy Under Donald Trump".
Joining Steve Cortes on the Summit stage:
Lunch with a Legend: Mike Burnam, CEO of TKG StorageMart Partners
The Real Estate & Development Cycle - Discussing the Impact on Self-Storage Owners & Developers, by Ben Vestal, President, Argus Self Storage-Sales Network
The Business Climate in Arizona, by

Barbara Meaney & Lourdes Pena

, Triadvocates - Arizona's #1 lobbyist and AZSA's friend in the legislature for decades
And other speakers on

Digital Consumer Advertising
Market Data
Business Strategy - watch for details!
Operational Symposium, September 28


Sales & Customer Service in
Top Producing Self-Storage Facilities
Using the tried and true model from years past, our Managers Track features the complete sales and customer service program of
Paul & Dawn Schween
Edutainers for over 15 years experience with corporate, government and educational audiences around the country, around the world, Dawn has been inspiring professionals to reach for more while Paul has gained a reputation as a "Sales Satirist," working with prolific sales trainers such as Tom Hopkins, Wally "Famous Amos," and Jim Rohn. This enjoyable training, guaranteed to boost you right out of your seat, will deliver the skills you need to move your sales and customer service to the next level.
Paul and Dawn toured the state last year with their workshop, Serve More to Sell More. It was so well received that we are bringing them back for more. This fast-paced, vibrant track will focus on skill development, confidence, management, and leadership, with topics including:
Sales:
First impressions - the do's and don'ts
Qualifying questions - where all the answers are found
Probing - get to the client's story
Presentations - separating yourself from the competition
Managing objections - techniques to manage the 3 most annoying objections in the industry
Managing excuses - if it's not about the price, it's an excuse
Closing - professional persistence
Phone finesse - how to reel 'em in to your store
Customer service:
Dealing with aliens - working with different personalities effectively
Managing difficult customers - how to manage & diffuse conflicts


From Knowing...to Growing! Q&A with Operational Experts
After the Schweens' training, we'll bring some of your favorite Regional and Area Managers to the stage as a panel of experts to answer your operational and legal questions. Panelists so far include:
Andy Beeckman, District Manager, Stadium Properties, operating Dollar Self Storage

Diane Gibson

, President, Cox's Armored Mini Storage Management

Jorge Saca

, District Manager, US Storage Centers

Richard Marmor

, Chair of AZSA's Legal & Legislative Committee


Click Here to Register Online!