Complete Story

03/05/2018
The Balancing Act of Supply & Demand
By Bill Alter, AZSA Board Member
Reprinted from Behind Closed Doors, AZSA's print newsletter, January 2018
All real estate is cyclical, and Arizona is widely known as the place where real estate cycles are most dramatic. Cycles of over-building occur because of an abundant supply of inexpensive land combined with a great quantity of real estate developers. Recovery cycles occur because we are among the fastest growing states. In fact, according to the US Census Bureau, Maricopa County was the fasted growing county in the entire country in the first half of 2017.
But in the back of our minds we hear the proverbial warnings: "Excessive profits breed ruinous competition," and "If you don't learn from history, you will be doomed to repeat it."
Do not be surprised when lenders, appraisers and buyers tell you that you must underwrite deals with lower rents and occupancy rates. These cyclical circumstances can make it difficult or impossible to refinance existing debt without infusing substantial new equity. Be prepared!
Here are some metro Phoenix market statistics.
Property Sales
There were about 35 sales of properties in major markets in Arizona in 2017. For this analysis, the 11-property Desert Storage portfolio will not be included in the data because individual property details of the transaction were confidential. Also excluded is another large portfolio slated to close before this article goes to press, for which details are also confidential.
A summary of key indicators for the other 24 properties, along with data for the preceding four years, is depicted in the chart below. Of the 24 transactions, there were about 21 sales in the greater Phoenix area. Most of these properties were class B- or C in quality, as opposed to the larger number of Class A assets that traded in 2016. This year's sales closed at an average price per foot of just under $70.00. Note that the range is from $21 all the way up to $126. The peak year for Class A property sales was 2016, as indicated by the highest price per foot as well as the largest transaction size and lowest cap rate. It is interesting to note that there are a record-breaking number of Class A properties for sale as of the writing of this article, which are not selling quickly due to concern that underwriting may be overly optimistic.

New Development
The amount of new development here is cause for concern. The likely disequilibrium that will result is causing buyers who historically acquired properties at C of O (Certificate of Occupancy) to move to the sidelines.
According to our research on land and building sites, 27 self-storage sites are for sale in the metro Phoenix market, ranging from in size from one acre to ten acres, with prices ranging from $1.96/square feet in a more rural area, to $9.45/square feet for urban sites. This is more self-storage land available than at any other time. Four of these sites come with approved plans. An additional three sites are in the entitlement process. Several of these are intended for facilities of over 150,000 square feet.
Almost six million square feet of storage has been added to supply between the years 2012 and 2017. According to various credible sources, there are several hundred thousand more in the pipeline.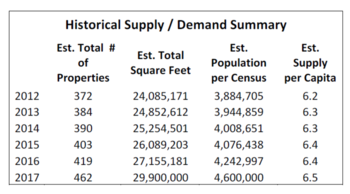 Demand for storage is typically calculated at 6.0 square feet per capita. Maricopa County's population of approximately 4.6 million generates demand for storage of 27,600,000 square feet. We are on track to increase supply to over 31 million square feet by the end of 2018, indicating we may once again be headed towards oversupply. To maintain supply and demand equilibrium, another 570,000 people need to move into Maricopa County.
Since development first began in Arizona, this state has dealt with whip-saw real estate cycles. Arizona is always among the first to suffer in downturns and among the first to recover. When the market turns here, we lead the pack with large and rapid movements in either direction.
Bill Alter has been a self-storage sales specialist since 1986 and has been involved in the sale of over 160 properties. He is managing director of the self-storage specialty group at Rein & Grossoehme Commercial Real Estate. Bill has been an Associate Member and member of AZSA's Board of Directors for 22 years. You can reach him at 602-315-0771 or Bill@RGcre.com.
---