Complete Story

03/05/2018
Helping Heroes Heal - One Auction at a Time
By Anne Mari DeCoster
AZSA Executive Director
You take pride in giving excellent service and keeping your customers happy. But face it, we've all struggled with how to keep some people happy, like...
Auction buyers who really only want one or two items in a unit and would really rather not lug away the bike, couch, and everything else.
Tenants who don't want some items that are otherwise sellable;
Strategic partnerships with local apartment managers, realtors, etc. who occasionally get stuck with abandoned items or things people can't move or don't want;
Delinquent tenants who need to vacate before they owe even more money but don't have a place to store everything.
We have a solution for you!
Let them put all these items in your Charity Storage auction unit. Then give them a tax deductible receipt for their donations, and they will
Thank you,
Refer you business, and
Return to your store because they remember that you helped someone in need.
That is the challenge set before us by Sherman Gillums, Jr., severely wounded Marine turned Veterans advocate: to help the one in front of us. He is the Keynote Speaker of the Operational Symposium of AZSA's 20th Annual Arizona Self-Storage Conference, September 26-27, 2018. Read more about him here: (Sherman Gillums Jr Bio). And follow 10 easy steps to be a part of AZSA's yearlong campaign:
We envision this campaign culminating in a statewide series of Charity Storage auctions in November 2018 in honor of Veterans Day.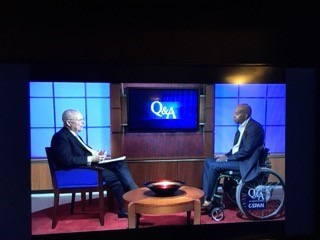 We are motivated by Sherman Gillums Jr.'s challenge to help the one in front of you. As he says, "Life breaks everyone at some point. Whether it's cancer, loss of a loved one, disaster, illness, or injury. We're all bound by the moment — the duty — to draw upon our inner strength in those circumstances." His inspiring message will challenge your view of the world, your circumstances, and those around you who could use your help. He demonstrates by example how ordinary citizens and companies can help wounded Veterans recover, reintegrate, and reclaim their identities.
In past years, AZSA members have been generous participants in our charity focus: a Silent Auction during our conference and trade show. But this year we are expanding our charitable effort into a year-long campaign: Helping Heroes Heal.
It was kicked off at the Disabled American Veterans Hall in Yuma at AZSA's Educational Workshop in January. Gila Ridge Storage Manager Melissa Chairez stepped up to the plate to have a Charity Storage Auction to benefit their local chapter of Disabled American Veterans.
Charity Storage was on hand at the Phoenix Regional Workshop in February to describe how to use existing resources and processes to generate funds for charity AND give you some great cause marketing. It's as simple as this:
Dedicate a storage unit as a Charity Storage auction unit,
Select a charity that benefits wounded Veterans,
Fill it with items worth bidding on, and
Auction it off to benefit the cause - in conjunction with your regularly scheduled foreclosure auctions, live or online.
Professional Self Storage Management's Sarah Trump also joined the campaign in January. Their Charity Storage auction unit at Tolleson Self Storage is already half full, she said at the AZSA Workshop in Tucson in April. Also at the workshop, Shari Hilson of Ajo-Kinney Super Storage described her Charity Storage auction to benefit Veterans late last year. She said it is easy to work with Charity Storage and helpful to both the self-storage facility and the tenants.
Be the next to join the campaign. Contact AZSA at azsa@azselfstorage.org or 602-374-7184 or Charity Storage at info@charitystorage.org or 844-945-3387 (www.charitystorage.org).
---