Complete Story

05/25/2018
They're Our Heroes - Help Them Heal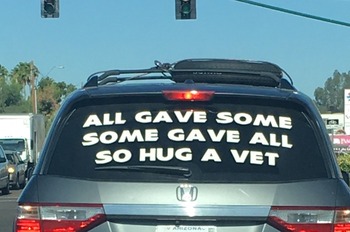 Renting season is in full tilt now and you are busy renting space. Memorial Day is behind us and the 4th of July is ahead - a time when we think of those to who made these holidays possible: American Veterans.
Before Memorial Day, I had the opportunity to be with some older members of our community who took the time to sing a patriotic song and wear red, white, and blue. They reminded me of what these holidays are all about, which I think is captured so well on the rear view window of this car.
So I'm asking you to do what some of your colleagues are already doing: join AZSA's yearlong campaign,
Helping Heroes Heal

It's an easy way to help the one in front of you, which is something the Keynote Speaker of this year's conference will ask you to do.
His name is Sherman Gillums, Jr., and he's a severely wounded Marine turned Veterans advocate.
He will challenge the way you view the world. Read more about him here: Sherman Gillums Jr Bio
Helping Heroes Heal involves having a Charity Storage Auction to benefit an organization that helps wounded warriors - your choice of charities. AZSA members already participating include:
Melissa, who was thinking about the older gentleman she helps care for when she filled her Charity Storage auction unit and had her auction. It benefitted her local Disabled American Veterans chapter.
Sarah is thinking of family members as she fills her Charity Storage auction unit.
As Joe and Carol prepare, they are thinking about their children who wore the uniform.
Shari just wanted to serve those who served and suffered when she did her Charity Storage auction to benefit Wounded Warriors.
Sherman is thinking of those with brain injuries suffered while answering the call of duty.
Who are you be thinking of?
Please, take Sherman's challenge: help the one in front of you, the one on your mind.
Managers: ask your owners.
Owners: enroll in Charity Storage.
Vendor members: contribute something for your customers' Charity Storage Auction unit.
After all, wounded warriors gave a lot to us. I like the way Bob Hope put it when he challenged people to take care of Veterans:
"Don't give until it hurts.
Give until it doesn't hurt to look a wounded Veteran in the eyes."
Happy Memorial Day!
---