Complete Story

06/27/2018
Bringing Actionable Data to the Arizona Self-Storage Market
By STR
AZSA Member Providing Data to the Self-Storage Industry
Self-storage is a local business, and data is critical in understanding local market dynamics. The data needed to provide this meaningful perspective in the self‑storage industry falls within three distinct areas:
Existing supply,
Pipeline development and
Performance.
These three elements provide a holistic view of the sector.
For years, the self-storage sector has lacked reliable and consistent data that is actionable, thorough and timely. A comprehensive performance data platform, combined with a robust database of development projects, will inform better decision-making for self-storage operators—particularly in a time when rampant development is thickening the competitive landscape.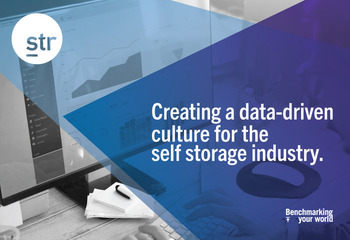 The demand for accurate data in our industry is relatively new, a byproduct of the sector's increasing popularity among institutional investors and on Wall Street. Several companies have entered the field as data providers to help meet this need.
One such provider is STR, a member of the Arizona Self-Storage Association, which has compiled an industry leading database of existing self‑storage supply for more than 60 of the top metropolitan statistical areas (MSAs) in the nation. In late 2018, STR will begin to collect and report on self-storage data for MSAs within Arizona. The database currently accounts for approximately 17,500 facilities. It contains key information on each facility, including square footage, number of units and number of buildings per property. Each property is reviewed on an annual basis to ensure its data fields and status as an open facility remain accurate.
Monitoring pipeline activity and tracking new developments in the top MSAs requires a rigorous and well-executed methodology. Property-level detail is available in public records, such as websites and press releases, as well as from local government planning and zoning offices. Carefully monitoring these sources reveals development details on thousands of individual projects currently in the pipeline, while at the same time uncovering new projects as they enter the development pipeline. STR's database includes 2,000 projects in various stages of development.
Five key pieces of information are critical and many experts feel they are best collected directly from operators on a monthly basis:
Supply (units available or square footage available),
Demand (units sold or square footage sold),
Total rental revenue,
Move-ins and
Move-outs.
From these figures, a range of key performance indicators (KPIs) can be calculated to provide insight into market performance. Occupancy, rate and yield are essential KPIs to track performance and benchmark a facility against the wider industry.
STR is coming to Phoenix on June 7 to host a Self-Storage Development & Performance Data Briefing and Luncheon on June 7. They invite you to join them. Check it out here:
To learn more about STR's self-storage data: STRs Self-Storage Performance Data
Founded in 1985, STR is a family-owned business boasting an exceptional track record as a leading source for premium global data benchmarking, analytics and marketplace insights. They look forward to working with AZSA and Arizona operators to bring better data to the self-storage sector. STR is excited to earn the mantle as your resource and partner of choice in strategic and operational decision making. Contact them at (615) 824-8664, x3160, or coeser@str.com.
---