Complete Story

11/08/2018
Online Reviews Determine Your Business Success
By Anne Mari DeCoster, AZSA Executive Director
Based on webinar by AZSA Members Terry Anderson, Tenant Property Protection, and Nate Tall, Podium
By now, you have figured out why your business's online reviews matter: because people buy from people they trust. As the Podium graphic below shows, today, online reviews tell people who to trust.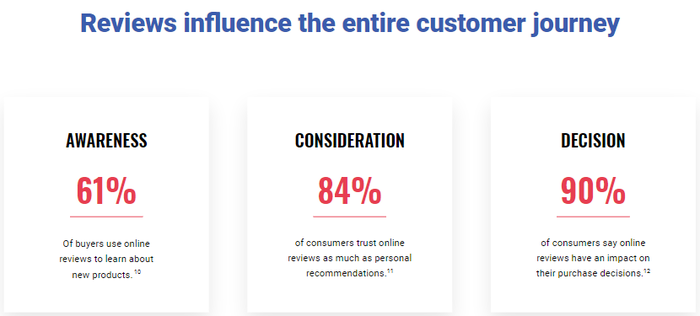 Adding a stick to this carrot is the fact that an online review can affect up to 250 future customers. The potential negative impact of bad reviews becomes clear.
Another element to add: the number of reviews you have determines where you show up in Google search results. You simply can't afford to ignore your online reputation. That's why AZSA presented a webinar on this topic on October 30, with Terry Anderson of Tenant Property Protection and Nate Tall of Podium. If you missed the live presentation, it is now available for members to view online in the members area.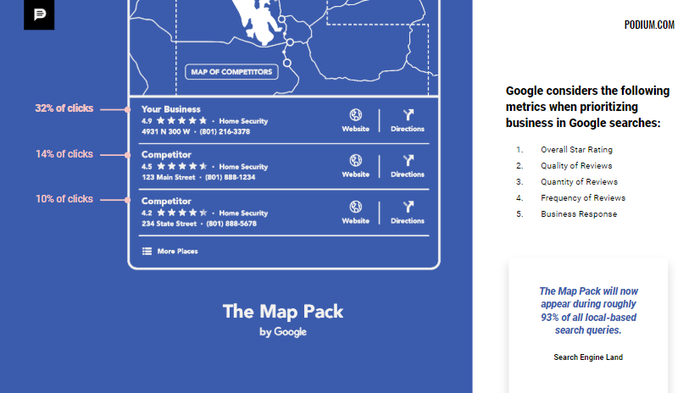 Basically, reputation management is "word of mouth, powered by the internet," according to Terry, and it is integral to your business plan. Terry says:
"Reviews should be a part of your business platform.
Not a separate addition."
So, how do you incorporate online reviews into your business platform? And what is reputation management anyway? For your self-storage business, online reputation management is a plan (set of strategies) to influence public perception of your facility and generate more rentals (based on Techopedia's definition provided in Terry Anderson's webinar). Your ORM goal? Terry puts it this way:
"Build a strong online reputation of reviews that showcases your experience and increases your credibility."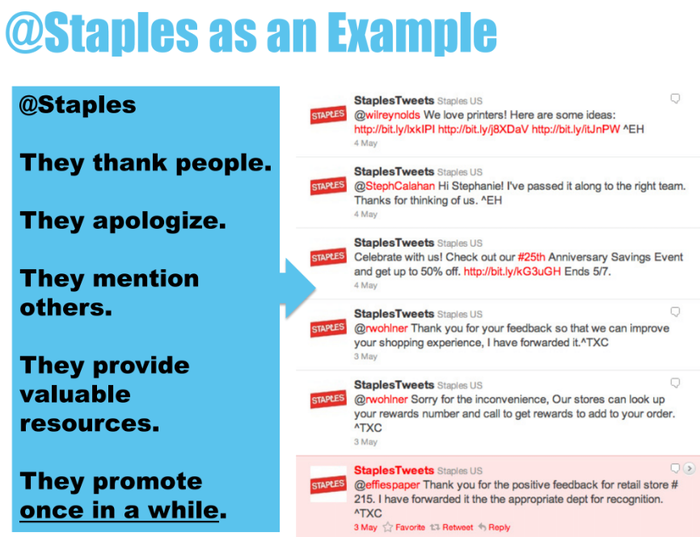 Terry provided a lot nitty gritty guidance on how to:
Discover your reputation "gateways": audit and claim your business listings; and make the most of locator tools.
Develop your ORM: get those online reviews; respond to them, as in the Staples example above; engage customers and prospects with social media; measure and improve customer experience
Deploy your ORM plan.
Do you think ORM makes a difference? It does, according to a recent study reported in Reputation.com's Whitepaper, What is Online Reputation Management? Businesses implementing an ORM program grew 24% faster than those not actively engaged in ORM activities. Simply put, increasing the volume of reviews, and responding to them online, gives you credibility with today's consumer.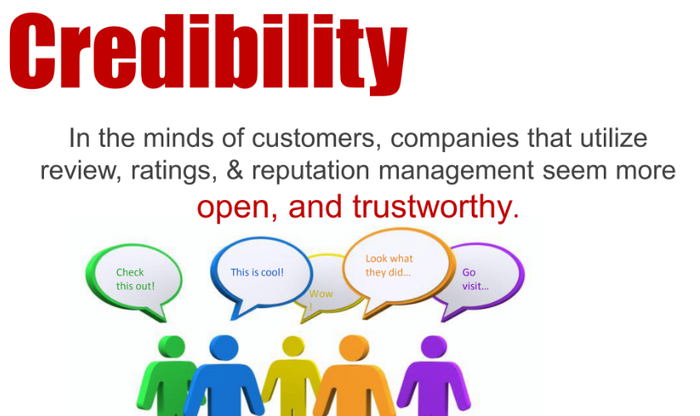 How can you increase your online reviews and improve your online reputation? Start by discovering your "gateways," Terry advises:
Claim all your business listings and audit them to make sure your business name and contact information is correct.
Fill them out completely, including photos.
Start with Google My Business.
Use a blog.
Respond to reviews
Work on NAP consistency: making sure your Name/Address/Phone number are the same on every listing.
See AZSA's article, "Google's Page One Results Look Different" for more on this.
With all those people saying all those things, do you think it really matters for your business? The answer is yes, it does. "It's not 'a' path to grow your business these days. It is THE path to growth!" Terry says, "You are going to grow your business in direct proportion to how well you do online." Think about all the ways consumers connect with you.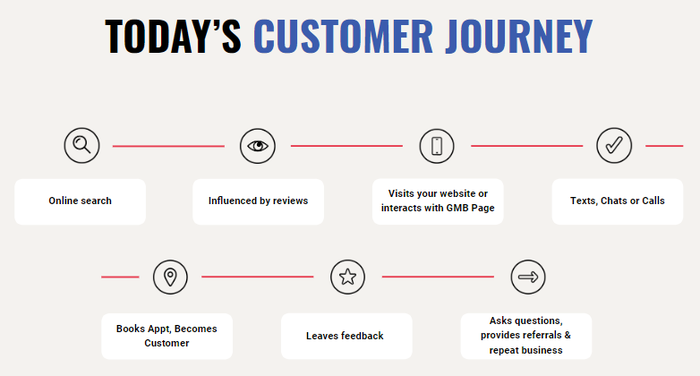 Make it easy for customers to find and connect with you. That's another benefit of completely filling out all those business listings: it's convenient for customers to get a hold of you. Says Nate Tall in the AZSA webinar, "The easier it is for customers to get a hold of you, the more likely they are to do business with you." For instance, use the "message" button on your Google My Business page. That enables searchers to text you about their storage needs. "Convenience builds strength and trust with customers," says Nate, and "Convenience wins with reputation."
You also need to develop your online presence by engaging customers. "Reviews older than 3 months don't count" with 69% of people, so get rid of them. You have a constant need for a high number of positive, recent reviews. Respond to those reviews, thanking people for positive ones and addressing issues raised by negative ones. See how Staples does that in the example above.
I can hear you saying, "But how do I get the reviews?" Make it easy for them. How? Ever consider a text invitation to review? If you use the AZSA lease (revision date 03/17 or later), you have your tenant's permission to text them.
Good news for those with negative reviews from those suspected to be disgruntled employees: they are finally against Google's guidelines! Check this out for details:
https://searchengineland.com/negative-reviews-ex-employees-finally-googles-guidelines-288390
Podium has a lot of solutions for you – find them on the Vendor Listing of the AZSA website and see what they have to offer. Terry also identified numerous tools in his webinar – watch it or contact him to learn the details. You can find Terry on the Vendor Listing too, under Tenant Property Protection.
Social media is another great way to engage customers and improve your SEO. So are surveys, even ones as simple as, "How would you like our store to look on Christmas Eve?"
There are a lot of tools to help you with this (see Terry's webinar for details), but you will have to dedicate resources to make this happen. You will have to devote time and staff, consistently, to develop the skills necessary to build a strong online reputation of reviews that showcases your experience and increases your credibility – the goal identified above.
To get an idea of how many people one person can influence, Terry referred to Dunbar's Number, identified by anthropologist and evolutionary psychologist Robin Dunbar, and shown below. The red column on the left is the number of people with whom you can have relationship, shown is descending order of impact in the column on the right. It suggests that in a lifetime, you can maintain stable relationships with 150 people, but you can influence 221 to 400 people. The internet puts that on steroids, because reviews are seen by so many people making decisions along the way of their "customer journey," shown above.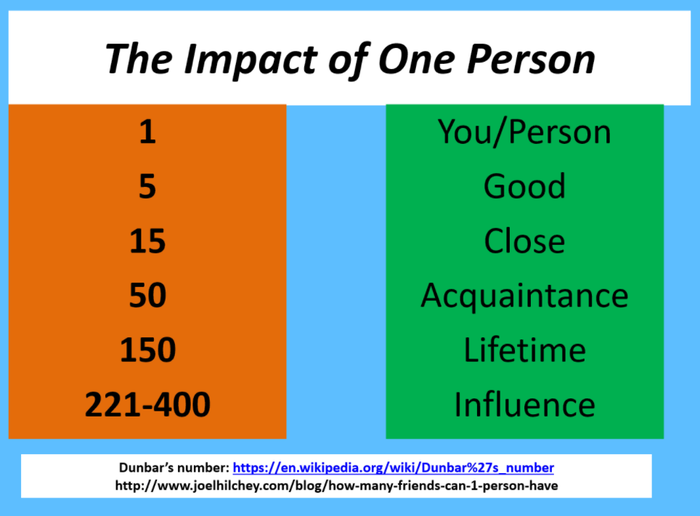 For more information, log in to the members area and watch the Reputation Management webinar, located under Educational Webinars.
---