Complete Story

12/19/2018
Google's Page One Results Look Different – What Does that Mean for You and Your Local Marketing?
By Anne Mari DeCoster, AZSA Executive Director
Based on SEO PowerSuite's article: "Big Update in Google's Local Search Results"
No doubt you've seen the changes Google started rolling out in August 2018. Page one results look different. Google reduced the "local 7-pack" to a 3-pack. However, Google didn't change the algorithm used to determine the most relevant businesses shown.
What does this mean for you?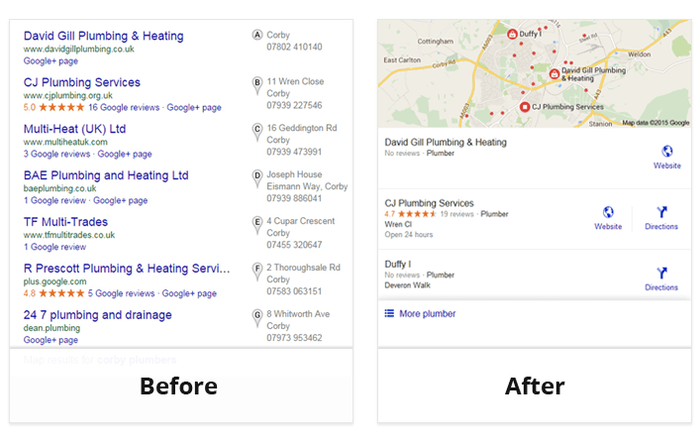 Clearly, it's harder to appear on page one. Before, more local businesses had a chance to squeeze on to it, but the reduction from 7 to 3 significantly increases competition. However, a provider of software tools for search engine optimization called SEO PowerSuite suggests this isn't as bad for you as it seems: "While at first glance the update seems to make life only harder for local businesses, in reality there may now be MORE exposure opportunity for MORE businesses."
For one thing, "the top-3 local results are in rotation, depending on the searcher's physical location." For another, clicking on the new page one results takes the searcher to a new search view of 20 competitors and a map, with a limited version of the old local card. Page one listings don't give phone number and address any longer; searchers can't connect to them with one click; and flyout business cards are a thing of the past. Google disabled these navigation options.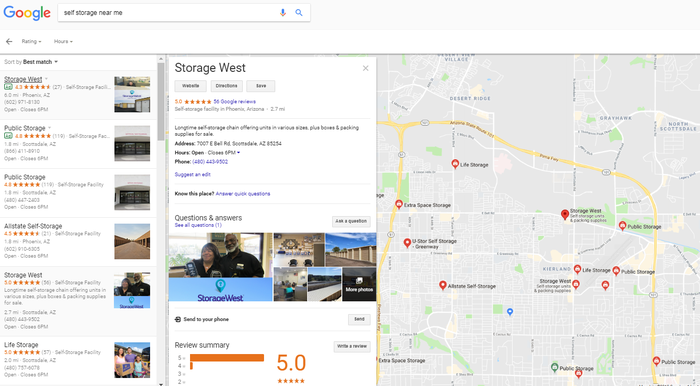 So, while it's harder to get on the first page, it doesn't show much anyway – because Google disabled so many navigation tools to drive searchers to the second page of 20 listings. You still have a chance of being found, even though searchers have to find your phone number and exact address on their own. But you can make that easier it easier for them:


Fill out your Google My Business page completely!

The example above, for AZSA member Storage West, shows the benefit of filling out your Google My Business page completely. With the right input, if you appear in the page two list of 20, your contact information and photos will show when your listing is clicked.
While Don Willis, Director of Sales and Marketing at Storage West, agrees that the suggestion to completely fill out your Google My Business page is important, along with other suggestions included here, he has a caveat: SEO isn't what is used to be. In fact, it is now quite hard to figure out a formula to follow that will consistently give you good results. Local search has changed, and results differ from person to person, device to device, based on their own search history on that device - and on what it "hears" you say even when you're not searching online.
Don't think that if you do all the things suggested in this article, you'll magically appear on page one every time.
Don's advice: be the kind of business Google wants to reward, and you will be rewarded. That's probably the kind of business you want to be anyway, right? Civic minded, with a heart for the community, delivering excellent customer service and a good product to consumers, easily, in one online place. That's what Don says Google will find and serve up to its customers.
Now back to the advice garnered on local search results. In addition to changes in the view searchers find, the information in your reports has changed also. The data is the same, but the information it gives is different. How can that be? "Google's local packs depend on the searcher's IP so much that you and your neighbor could literally be getting different results for the same query. These fluctuations are something that is really hard to track for a rank checking tool."
Uh oh, then how do I know how I'm doing? Who is finding me, how many are finding me, and how can I improve my results? That's not clear yet.
Andrew Shotland, President of Local SEO Guide, Inc., says, "In the near term SEO consultants are going to have a challenge in explaining to the client who used to rank #4 in a local pack why it's not a big deal that they are not on page one anymore, when last week they were touting how awesome it was to be ranked #4!"
Yes, that will be hard, when you think about page one results you used to have.
All is not lost. While the page one top three hits rotate rather dramatically, SEO PowerSuite found that the top 20 results on page two don't vary greatly. For testing they did in Seattle, there were almost the same results, regardless of where in town the searches were initiated. The order changed, based on the searcher's physical location, but not the businesses. So, perhaps that means you need to change what you look at from "exact rank in local pack" to "being/not being listed in the top-20 map results".


While your Google My Business page is no longer linked for searchers, most of the information about your business is still pulled from that page.

So, fill it out correctly, as the Storage West example shows above. Specifically, says SEO PowerSuite:
Add a long, unique description that's formatted correctly and includes links.
Choose the correct categories for your business.
Upload a high-resolution profile image and cover photo.
Upload as many photos as possible.
Add a local phone number to your listing.
Add your business address that's consistent with the address on your website and local directories.
Another challenge? "Google added an option for searchers to select only businesses that are above a certain rating." This makes online reviews even more important.


What should you do?
SEO PowerSuite emphasizes that Google's algorithm didn't change, so the same SEO strategies and tactics you used before still apply – even though the page one results may not be as gratifying and your reports don't show what's really going on. SEO PowerSuite advises:
Claim and fill out your Google My Business listing – You've heard that before.
Ensure NAP consistency – Nothing new here either. Make sure your Name-Address-Phone number are complete, consistent, and correct on every page of your website and all other websites.
Keep earning reviews – Again, old news, but oh-so-important! This is your constant challenge. Online reviews have a direct impact on your local search rankings. This includes reviews on Google, Yelp and other local directory pages.
Build local backlinks – Same advice as in the past. "Link building within local SEO is incredibly important…(because) local SEO relies much more on links from other local websites that are really relevant to your business," says SEO PowerSuite.
Take care of on-page optimization – Your pages' content is crucial for SEO, so optimize its value. SEO PowerSuite identifies specific places where you should add your city/region and a relevant keyword (https://www.link-assistant.com/news/google-local-3-pack-update.html). They also advise embedding a Google map with your business market into your landing page.
Find the most influential local directories in your area and use them – As Anne Ballard and Carol Mixon-Krendl tell AZSA members in educational events: Market, market, market! Which ones are ranked highest for your keywords now? SEO PowerSuite's tool Rank Tracker can answer that question for you, and they offer a "free copy for an unlimited test drive". Let us know if this is what it's touted as!
Advice from other sources SEO PowerSuite interviewed? Andrew Shotland of Local SEO Guide, Inc., says,


"…making sure your business has a high rating with a decent amount of reviews should be a priority."

He goes on to say the difference in appearance of the page-one results seems to be a "non-event thus far". He reiterates the points above: "Some NAP cleanup, content and quality backlinks can do wonders for you."
Phil Rozek, Owner of Local Visibility System, says,


"Bumped off of the new local 3-pack? Then try dominating a niche, rather than a whole market."

That's particularly good advice for us, because self-storage is a niche business. More important than ever? Local market. While the internet has had some effect, the majority of your customers are still in the 1-3-5 mile radius of your physical location. So niche marketing is key!
He also emphasizes link-earning efforts like joining at least one local Chamber of Commerce, and industry/professional organization (yes, your tenants do find you on AZSA's website, and they call use for more information – and to complain about you…). Rozek suggests "maybe getting accredited by the BBB." Phil says these are solid, often overlooked, high quality links for your business. These are all suggestions you've heard before, like at AZSA workshops with Anne Ballard or Carol Mixon-Krendl. Rozek agrees with Shotland:


"Reviews and links are what really make the difference over time, in my experience."

And finally, in the words of Mike Blumenthal, local marketing expert and owner of the company bearing his name, "Change is the only constant in the world of online marketing." But most of it is "evolutionary…not revolutionary." So he supports "a mixed approach to local search that involves a strong website, a strong local presence and strong locally focused marketing campaign that keeps the brand prominence of your business high." More of what you heard from Anne Ballard and Carol Mixon-Krendl at AZSA events just this past year. All these experts emphasize the same thing: local marketing is your key to success.
---