Complete Story

04/26/2019
Drive More Customers to Your Business with Online Reviews and Google Local Service Ads

By Anne Mari DeCoster, AZSA Executive Director
Based on a webinar by Podium, AZSA Member
Online reviews impact your company's bottom line. The more review, the higher your star rating, and the more recent – the more money you make. Why? Because these are some of the important metrics Googles uses to determine our placement on local search results, according to Matt Boyce, on a recent Podium webinar. Matt is the Marketing Director of Podium, AZSA Member providing services in Advertising/Marketing, Lead Management, & Web Design/SEO. Joining him on the webinar was Josh Moran, Co-Owner of Vital Storms.
Some things Google looks at:


Relevance – does your page match the search?
Distance – are you local?
Prominence – how many reviews do you have? How many other sites link to your site?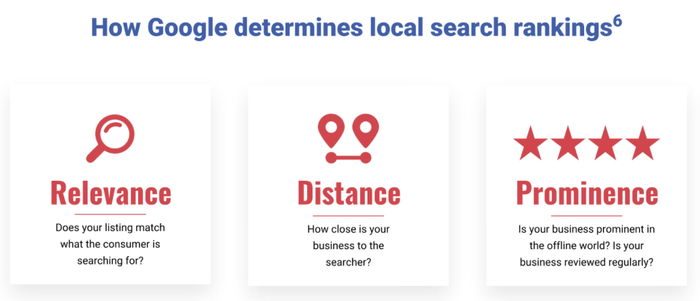 Google changed things up a lot in the past year, particularly by adding Local Service Ads (LSAs). If you want to rank higher and book business faster, you'll use them, says Podium.
With LSAs, you only pay when a customer gets in touch with your business through these ads. LSAs appear at the top of the search engine, especially on mobile. In fact, it's hard to get around them on mobile. It is a lengthy process to get signed up, but it is valuable digital real estate, so Podium encourages businesses to "just do it" and start right away.
Before you start, make sure you have claimed your Google My Business (GMB) page, because you'll need it to enroll in LSA. Some GMB basics:
Claim your page.
Navigate to it, search for your business: is it correct? It needs to be complete, with great photos.
Verify – Google will send you a verification postcard.

A quick list of Podium's LSA pointers:
Get on it: LSAs are not fly by night, just do it to get on the 1st page.
You need lots of good reviews: you're positioned by the number of reviews and the amount of stars – and consumers want recent reviews, lots of them.
Make sure your website loads quickly, especially on mobile.
Background check your IT specialists: LSA will, so check your team out first. Google will evaluate your technology, code, page speed, etc. If you don't pass, it slows you down.

NAP
Another important step to take is to make sure all the information online related to your business is consistent. It is called NAP – Name Address Phone. Google's algorithm looks for an exact match, even punctuation, so make sure you have consistent contact information everywhere: on your website, in every directory that links to you, in every reference online.

Back to online reviews
According to Podium, what reviews say impact paid ad effectiveness – and by paid ad, Google currently means LSAs.
Searchers are not your customers until they're on your website. Until then, they're Google's customers. Google treats them consistently, and wants you to do so as well.
Use review engines.
Reviews filter into Google's algorithm.
Now Google is only showing Google-guaranteed reviews, which are generated by LSAs.
Google is the most important place to get reviews. Reviews on Google are LSA reviewed, which means they are "Google guaranteed" reviews.
Reviews even affect your paid campaigns, and the cost of those paid campaigns.
Star ratings impact how well your ad does – so respond promptly. Google looks at your response to online reviews, especially negative ones. Google wants them resolved. Your LSA inbox lists all leads Google sends you. Respond to each one in the inbox, so Google observes that you are taking care of the leads they are giving you. It becomes part of your score, part of how you rank high.
How do you respond to negative reviews? Don't be hot headed or emotional, and don't get into an online debate back & forth. Take it offline, as the reviewer to call, email, or come in so we can work it out. Customers like to see this too: how do you respond to problems? How do you resolve situations?
What if the negative review is from a disgruntled employee? Frame your response to the review to point out that this is an employee issue, not a service or customer issue. Google now has a process for dealing with these too, and Podium emphasizes that they will go to bat for their customers who get such reviews.

More on "Google guaranteed" reviews
These are filled out and submitted by a customer who has used your business through LSA. Google gives the customer a link to review your business after the customer calls or clicks to you through your LSA ad. It's all Google tracked. Customers are "verified" as customers who actually interacted with you.




Reviews influence the entire customer journey. I can hear you asking, "What customer journey?" That's today's term for how customers the find you, evaluate you as a legitimate solution to their problem, and ultimately decide to buy from you. And today, all of this happens online.
Awareness: 61% of buyers use online reviews to learn about new products and services.
Consideration: 84% of them trust online reviews as much as personal recommendations.
Decision: 90% of them say online reviews impact on purchase decisions.

Top Pointers on Getting Five Star Reviews
Smile! Hire the right people.
Train for customer service – train employees to serve customers and to ask for reviews, and give them incentives to do so. Ask…

In the facility while customers are renting;
When calling after a rental/move in to see if the customer is satisfied.

When connecting with customers, highlight the best parts of your features and benefits over and over.
Reach out at the right times…

Like when you are engaged, talking with a customer who is satisfied;
Ask in text message – they have higher open rate. Make sure your lease gives you permission to connect via text – the AZSA lease gives you the tenant's permission to text!

Have an efficient process to ask for reviews.


How to Get Hundreds of New Reviews
As the webinar drew to a close, Podium referenced the 30,000 businesses who use their software to generate over a million reviews. What works best, and what they recommend to their customers:
Determine the right timing of the invitation: send invite before your customer leaves your business – in the moment of exhilaration, when the customer's problem is fixed.
Eliminate barriers: have a smooth, frictionless process for customers & employees. Remove as many steps as possible – because each additional step reduces success by 50%.
Build it into the process: Say to your customers, "Our business thrives on real customer feedback, will you help us get it?"
Deliver high quality customer service: that way you build an army of advocates.
Invite via text: 99% open rate within 3 minutes of receipt, versus thousands of unread emails. Yikes! Send it before they drive away.
Use a tool to manage online reviews: tools give you analytics, so you know what is working and who is good at it (which employees). Host competitions, recognize high achievers, find ways to make it worthwhile to your employees.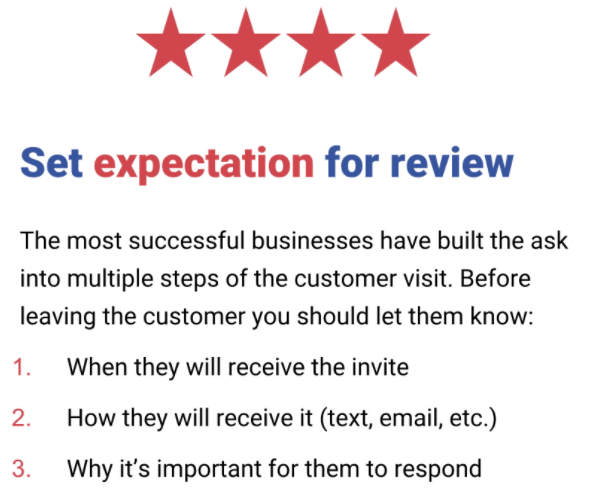 To learn more, contact Podium using the
red "Suppliers & Services" button on each page...
or...
---