Complete Story

08/26/2019
Vehicles: What to do about Delinquent Vehicles

By Richard Marmor, AZSA's Legal & Legislative Chair
Reprinted from AZSA's Quarterly Newsletter, Behind Closed Doors, Summer 2019


I get more questions about motor vehicles than anything else. For years it was the bane of our existence, but it is much easier since AZSA successfully lobbied the legislature to modernize Arizona's lien laws in 2009 and 2010. These statutes serve as the basis for the Motor Vehicle Department's written policy regarding vehicles sold in self-storage auctions. (Spoiler alert: the "Magic Words" about this policy memo appear at the end of this article.)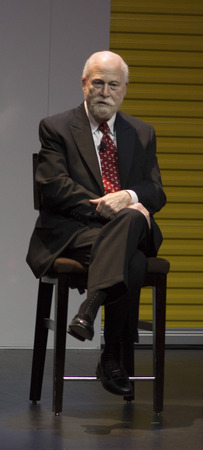 See Richard Marmor on stage at this year's AZSA Conference

AZSA members have access to step by step instructions in the Members area of the website, www.AZSelfStorage.org. You will find videos, Frequently Asked Questions, legal articles, fillable forms, and soon there will even be an Operations Manual and a Foreclosure and Lien Sale Manual to guide daily operations. Just log in to use these resources. This article summarizes the process of auctioning delinquent vehicles, and we begin with what may seem to be an odd question.
Is it a Vehicle?
We see all manner of stored items. Sometimes it is clear what they are, sometimes not. When starting the vehicle foreclosure process, your first question may be: "Is it a motor vehicle?" The answer is: if you have to ask the question, then treat it as a motor vehicle. If it has a VIN, it is a vehicle, and it must be dealt with as such. Yes, even if it has no engine, no transmission, no seats, and it is basically a box on wheels, it still has a VIN. Do the title search and send the notices, just be sure to describe it accurately when you post your auction so bidders know what they are bidding on.
Title Search
Now that you've determined it is a vehicle, go to MVD and do a title search. The MVD's form is long and complicated, so we simplified it for you. It's a fillable PDF called "MVD Motor Vehicle Record Request (ADOT Form #46-4416)" and it's available on the AZSA website, www.AZSelfStorage.org, in the Members area. Find this and all Forms in the left sidebar. Our simplified version hides the parts that don't pertain to self-storage - just while you are filling it out - so you see only the portions you need to complete.
Notice that we pre-checked a box at the end of the form, indicating that you are "an operator of self-service storage facility" with the "intent to foreclose your lien and sell the vehicle." We were able to get this exception into Arizona statutes to enable you to exercise your lien. Otherwise, MVD records are not available to the general public. And that's a good thing, because it protects people against stalkers attempting to misuse MVD records to find information about victims.
When you put in the required information and press print, all the other parts of MVD's complicated form magically appear, so the gremlins at the MVD counter recognize the form. Take it to MVD, pay a small fee (a couple of dollars), and you will get a print out of the information you need.
Now let's say you find a boat when you open up a delinquent unit. You go to the Department of Game & Fish and do a title search for the boat, but it it's on a trailor, you have to go to MVD to search that title.
Suppose the title search shows your tenant is an owner of the boat or vehicle in question, but so is his brother, shown at the same address. Send each of them a notice, even though they are going to the same address. If the records show your tenant as owner at a different address, send a notice to that address too. This is the best policy about sending out notices:
When in doubt, send it out.
Presale Notices
What should those notices say? The statutes spell out the contents of the second notice in detail but are silent on contents of the first notice. So put the same contents in each. We prepared these notices for you, available as form letters in the Members area of the AZSA website. Like the MVD form, they are fillable PDFs, called "Auction Presale Notices – Live Auction (for Mailing)" or "Auction Presale Notices – Online Auction (for Mailing)." When you add the information required and hit print, you will get three copies:
One to send via verified mail (for instance, using an inexpensive Certificate of Mailing – NOT expensive Certified Mail – check the AZSA website for details);
One to mail with a regular first class stamp not less than 7 days after the first notice nor less than 14 days before the sale;
And one for your files.
The AZSA website has lots of details on the auction schedule and other aspects of foreclosing your lien, including a fillable PDF of the form to send to lienholders discovered in your title search. And remember:
Certified mail and newspaper advertising are no longer required in the foreclosure and auction process!
Don't waste your money!


Vehicle Registered Out of State
Vehicles can present many challenges; for instance, they may be registered out of state. How would you know this? Maybe it has a license plate from another state, or perhaps some other indicator. There is nothing in our law that mandates that you contact that other state and try to get additional information, but it is still a very good idea to try. Go online to the MVD in that state and see if they have a form for you to request the information. Consider sending a letter along with your request, explaining that you are an operator of self-service storage facility with the intent to foreclose your lien and sell the vehicle. Laws regarding access to this information vary state by state, but such a letter may increase the likelihood that they will release the information to you. If they do not have a form, use the one on the AZSA website "Request for Out of State Vehicle Title Info," which explains Arizona statutory requirements and requests title information.
What if a vehicle has no VIN number?
I get this all the time: the vehicle has no VIN. It used to be possible to request a Level 2 inspection by MVD, and they would send out an expert who knows where to look on the vehicle to find another copy of the VIN. If they can't find it, they assign a new number and you can go forward. Unfortunately, budget cuts eliminated that option and MVD no longer sends these experts to your facility. You can tow it to the MVD, but that's not always possible.
We have recently been contacted by members who were able to get Level 2 inspections and received brand new, shiny VIN numbers. So perhaps things are improving in this regard. Also, AZSA has numerous auctioneers who are Vendor Members of our associations. Many of them have expertise in finding these hidden VINs or causing one to be assigned. Use the red "Suppliers & Services" button, which appears on every page of our website, select Auctioneer from the drop down list, and you'll get a directory of all auctioneers who are AZSA members.
Even with your best efforts may fail to locate the VIN or get a new one assigned. Without a VIN number, it seems like you are stuck. However, the law does say, "The operator is not required to send a notice pursuant to this paragraph if ownership information for a vehicle is unavailable." [ARS Section 33-170(b)(3)(c)]. So:
No information, no extra notices.
Just send the first and second presale notices to the tenant and proceed with the sale. And in response to recent member questions, I'll add this: when the MVD assigns a new VIN pursuant to a Level 2 inspection, there is no record of ownership. This is another situation in which no additional notices are required.
Other Foreclosure & Auction Requirements
This article focuses on aspects of the foreclosure process that are unique to vehicles. However, all the other statutory requirements for foreclosing on a lien and having a sale still apply when auctioning a delinquent vehicle. For instance, you must have a commercially reasonable sale, which requires 5 or more bidders, according to AZ statutes. To help you attract bidders,
List your auction on the AZSA auction website, www.SelfStorageAuctionsAZ.com, free to members.
Remember, newspaper ads are no longer required. They were expensive. AZSA's auction website is free and has great SEO. We just upgraded it so it is much easier to use on mobile devices.
Full details on all foreclosure and auction requirements are in the Members area in main AZSA website, www.AZSelfStorage.org. Resources include Frequently Asked Questions, legal articles, forms, videos, books, and more. We encourage all owner/operators and managers to familiarize yourselves with the resources so that you can be confident that you are complying with all applicable laws and regulations.
Declaration of Sale
And finally, you get to the auction. Now you have to document your vehicle sale, giving the buyer something to bring to MVD to get their own title. When we were negotiating this, the MVD wanted an affidavit, which requires notaries. I had visions of an operator having an auction in Douglas, AZ, on a Saturday afternoon, and no notary being available. So we negotiated, resulting in the MVD accepting a declaration under penalty of perjury. I drafted the form and offered it to MVD, but MVD said they would not produce it. So we did. It is another one of the forms in the Members area of the website. It is also available for sale to non-members on the AZSA website (self-storage operators ONLY). Note that if you do not indicate sales tax, neither MVD nor Game & Fish will accept the form or record the buyer's title.
Sales Tax
And that bring us the subject of sales tax, which is called Transaction Privilege Tax (TPT) in Arizona. It is due on ALL auction proceeds, whether you charge it or not. You have the right to add it on to the bidder's price, but if you don't, you still have to pay the tax to the Arizona Department of Revenue. The rate is the retail rate, the same one you use when selling merchandise. We tried to get the taxing authorities to apply the rent rate, but they refused. Be forewarned, they want to be sure you are charging and paying the tax.
If you are audited, they will likely look for your auction sales tax first.
Lienholders
Lienholders for a vehicle have a special right: the right to recover the property and pay you. Unlike other lienholders, they have to pay what is due to the operator to recover the vehicle, under Arizona statute. This is another benefit we were able to negotiate for you. This is true for the lienholder or any other owner of the vehicle you found in your record search. If you are in the foreclosure process, and they come forward, responding to your notice to lienholders, they can pay the amount due and recover the vehicle, and the operator is not liable. Per Arizona statute, "The operator is not liable to the occupant for any other person who claims an interest in the vehicle if the operator releases the vehicle to a person listed as a registered owner or a lienholder pursuant to this subsection." [ARS section 33-1704(D).
Abandoned Vehicles
This is a caveat lawmakers made clear: self-storage operators cannot use the abandoned vehicle process to deal with delinquent tenants' vehicles. In the past, operators misused that procedure, and as a result the legislature took it away.
Hidden Vehicles
Now, back to your sale. What if you find a hidden vehicle, buried somewhere in a unit being auctioned? You didn't know about it, you couldn't see it, so you were not able to take the appropriate steps to be able to sell it. The very least you should do to protect yourself against this situation is post a notice that says, "The only vehicles being sold today are: (list the vehicles). Any other vehicles discovered were not sold to you."
Auction Sales Agreement
The statement above and many other important ones are found in AZSA's Auction Sales Agreement. We encourage you to use it. This is a contract to be signed by you and each bidder – every person coming to your facility for your auction – as a condition of being permitted to bid. It covers you in all kinds of situations. For instance, your lease has plenty of language about the tenant holding you harmless against injury, loss, damages, etc. that occur on your property. Then you invite people onto your property for an auction, and you have none of that language. It's in the Auction Sales Agreement, which is available on the AZSA website. It addresses sales tax, clean out deposit, states that things are bought as is/where is without warranty – all things to cover you. It applies to both live and online auctions. It only can help you.
All owner/operators and managers attending the
21st Annual Arizona Self-Storage Conference
can get a free package of these agreements at the AZSA exhibit.
Magic Words
The laws described above went into effect in 2009 and 2010, and the MVD is pretty well acquainted with the statutory requirements at this point. If you ever do run into difficulties with MVD not knowing how to handle your vehicle sale, these are the magic words to say:
Policy Memo 10.6.9, dated 25 April 2011
It's a "how to" memo in the MVD records about what to do in self-storage auction situations. I know that it's correct, because I wrote it.
---