Complete Story

10/25/2019
ACE Recycling to Hold Electronic Waste Drive at Ribbon Cutting Ceremony on Nov. 1
By Shelby Maguire, Owner of Ace Recycling, AZSA Member


ACE Recycling, a new AZSA Associate Member, will host a ribbon cutting ceremony in partnership with the Southwest Valley Chamber of Commerce to celebrate a change of ownership and business name.
In addition to the ribbon cutting ceremony on November 1, ACE Recycling will be holding an Electronic Waste Drive. For a complete list of electronics ACE Recycling accepts, please visit www.aceewaste.com/what-can-be-recycled.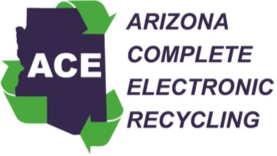 There will also be a collection drive for the Homeless Youth Connection (www.hycaz.org). The Homeless Youth Connection will be taking donations of $5-10 fast food gift cards and/or $20-25 grocery store gift cards.
The event is on November 1st, 2019 from 12:00 PM to 2:00 PM. ACE Recycling is located at 10297 W. Van Buren St., #16, Tolleson, AZ 85353. Businesses and elected officials will join Shelby and John Maguire, the new owners of ACE Recycling, for the ribbon cutting event. The ceremony will take place at 12:00 PM followed by lunch and a tour of the facility. There will be a raffle and door prizes, along with educational information and networking.
About ACE Recycling
ACE Recycling provides a cost effective, environmentally responsible solution to the problem of ever increasing electronics in landfills. ACE recycles obsolete and surplus electronic equipment (working and non-working) and is able to reuse, refurbish, recover and recycle virtually all materials creating a surprisingly low cost solution for businesses. ACE Recycling offers Department of Defense approved & HIPAA compliant data destruction.
ACE Recycling is open for electronic waste drop-off from 8:00 AM to 4:00 PM Monday through Friday and 9:00 AM to 4:00 PM Saturday through a partnership with AZSA Facility Member River Crossing Self Storage and RV. More information can be found at www.aceewaste.com.
For more information, contact Shelby Maguire, owner, 623-907-5430, Shelby@aceewaste.com
---